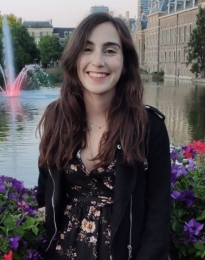 The story of Martha Fonseca
How did you end up at B-Synergy?
I was looking for interesting companies to work for and I found B-Synergy in the OutSystems Partner page. I discovered that it was the oldest OutSystems partner in the Netherlands - the first company to work with OutSystems over here. I sent an application and I found the team very warm and fun, and also enthusiastic to have me join them.
How did you feel about moving to another country?
In my case this was not such a big step because I had studied in the Netherlands before, 10 years ago. After that I just knew that someday I would love to come back and work here. I just feel at home in the Netherlands and I love the country. The hardest part was leaving my family and friends behind, but B-synergy found a solution for that.
Was it hard to make that move?
Not at all! I was very excited to finally come and live in the Netherlands. I always felt very welcome and everyone helped me with the bureaucracy. Maybe the hardest part was to decide in which city I would like to live.
Has B-Synergy fulfilled your expectations?
Yes, it has. You are in the right place if you want to develop yourself in OutSystems and in other technologies. Also, you can always count on the support of very experienced colleagues.
What has B-synergy done for you?
B-Synergy is a very flexible company and it made me feel very welcome when I started here. I like that you can work at your own pace here, that you decide your own rhythm. They always try to check in on me to see if I am happy in my current project.
How do you feel about being able to work from Portugal?
That is a big advantage of working for B-Synergy. I feel way happier like this because I can see my family and friends a lot and I don't have to take vacation days to do that. With this position I have the best part of both countries. I live in the Netherlands but I go back to my country frequently, so I can enjoy special occasions like Christmas and family events, and also have the opportunity to top up my vitamin D levels with the amazing Portuguese weather.